Having an online presence is essential for businesses to grow these days. For this, most businesses are shifting focus to creating websites. But there are many options when it comes to developing a website.
We all know, creating a first good impression is crucial for any business. In this instance, the design, interface, and looks of websites matter a lot. This is where the role of Angular JS comes into action. It has all the interactive features, we often look for in Custom web application development, and all this in one platform. Custom web application development companies are in great demand and can help create a good website.
An Overview of AngularJS
AngularJS is an open-source front-end web framework built on JavaScript that is primarily maintained by Google and a group of people and businesses. It addresses most of the challenges encountered while single-page web application development projects. Additionally, it aims to simplify both the development and the testing of such applications by providing a framework for client-side model–view–controller (MVC) and model–view–view model (MVVM) architectures, along with components commonly used in rich Internet applications.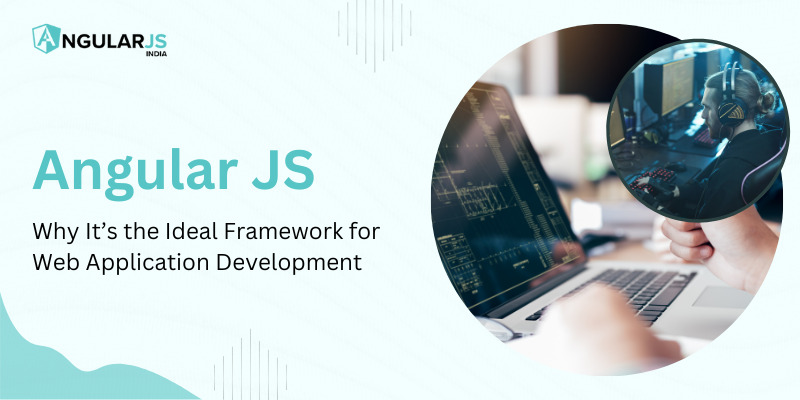 Why choose AngularJS for developing websites?
There are several benefits of choosing AngularJS for web application development:
1. MVC (Model-View-Controller) architecture: AngularJS follows the MVC architecture, which separates the application into three different parts: the model (data), the view (user interface), and the controller (a bridge between the model and the view). This separation of concerns makes it easier to develop and maintain complex web applications, as it is possible to work on the model, view, and controller independently.
2. Reusable components: It allows developers to create reusable components that can be easily imported and used in other parts of the application. A component is a self-contained unit that consists of a template (HTML code), a class (JavaScript code), and styling (CSS code). This advantage of AngularJS makes it easier to maintain and scale the application.
3. Two-way data binding: The framework offers two-way data binding. It allows the automatic synchronization of data between the model (JavaScript code) and the view (HTML code), which means that when the data in the model changes, the view is automatically updated, and vice versa. This feature saves a lot of time and effort for developers, as they don't have to manually update the view every time the data changes.
4. Dependency injection system: The framework has a built-in dependency injection system, which makes it easy to manage dependencies between different components of the application. This feature makes it easier to test the application, as it is possible to easily replace a component with a mock object for testing purposes.
5. Built-in directives: Angular JS offers a wide range of built-in directives, such as ng-repeat, ng-if, and ng-bind, which allow developers to easily manipulate the DOM (Document Object Model) and create dynamic and interactive web applications.
6. Powerful routing system: Angular JS has a powerful routing system, which allows developers to easily create single-page applications that can handle multiple views and routes.
7. Unit testing support: Angular JS has a built-in testing framework, which makes it easy to write and run unit tests for the application. This helps to ensure that the application is stable and reliable, as any changes made to the code can be automatically tested to ensure that they do not break the application.
8. Community support: It is an open-source framework that is maintained by Google and a community of individuals and corporations. This means that it has a large and active community of developers who are constantly contributing to the development of the framework and providing support to its users.
9. High security: The framework takes high-security measures, making the application extremely secure. It offers built-in support to prevent common HTTP vulnerabilities, like cross-site request forgery (CSRF or XSRF) and cross-site script inclusion (XSSI).
No doubt, Angular JS is worth considering as a framework for developing web applications. If you are looking for someone to develop a web application, hire AngularJS developers in India for best outcomes.
In summary, Angular JS is a powerful and feature-rich framework that offers a wide range of benefits for web development. Its ability to create reusable components, two-way data binding, dependency injection system, built-in directives, and support for MVC architecture makes it an excellent choice for complex and interactive web application development. In addition, its support for unit testing makes it easier to ensure the stability and reliability of the application.